Green Day News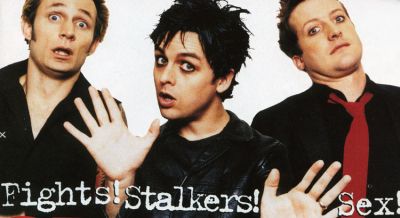 July 21, 2010:
Ok, Megan is actually trying to find her own news out by researching through various sources for recent Green Day news! So, just last Friday, the cast of American Idiot the Musical performed live on Good Morning America. Here's a link of them performing 'Good Riddance': Good Morning America clip. Also, Green Day are definitely about to start recording their next album sometime in the near future (hopefully it won't take another five years for this record to come out ... such a long wait, though it was worth it). Currently, the band is looking around for record producers; both Rob Cavallo and Butch Vig are possibilities. That's all the news I've got that isn't totally outdated! Super.

July 20, 2010:
-Well, since I'm so late with news on this site, I may as well re-cap all major Green Day news from the past year and a half? That works:
~In 2008, Green Day's side project, the Foxboro Hot Tubs first came out and produced an album called Stop, Drop and Roll!.

~In May 2009, Green Day released their eighth studio album, 21st Century Breakdown. Know Your Enemy, 21 Guns, 21st Century Breakdown, and Last of the American Girls were all made hit singles. The album is set up much like American Idiot and tells the story of both Christian and Gloria; the album is divided into three parts.

~Green Day won a grammy at the 2010 Grammy's for 'Best Rock Album of the Year'

~Green Day hit Broadway when musical director Michael Mayer (who also directed the Tony Award Winning Spring Awakening) asked them if he could bring their album American Idiot to the stage. So far, the musical has been a huge hit, after it first premiered at St. James Theatre on April 20, 2010.

~Rock Band created 'Green Day: Rock Band' in June, 2010, so Green Day finally has a video game!

I suck at these uber late updates, so please excuse my tardiness! ... not like anyone consistently comes to this site, of course.
My thoughts : I really need to buy a Rock Band guitar so I can actually play Green Day Rock Band! I've got the game, alright, but I never got around to buying any of the instruments. Way to go, me. I had a pretty decent paycheck last week, though, so maybe some of it can go to that.